We asked our political insiders and readers if she can still win, or if her campaign is in trouble.
Two straight polls show Jim Matheson with a double-digit lead over Mia Love in Utah's 4th Congressional District race. Does Love still have a chance to beat Matheson in November?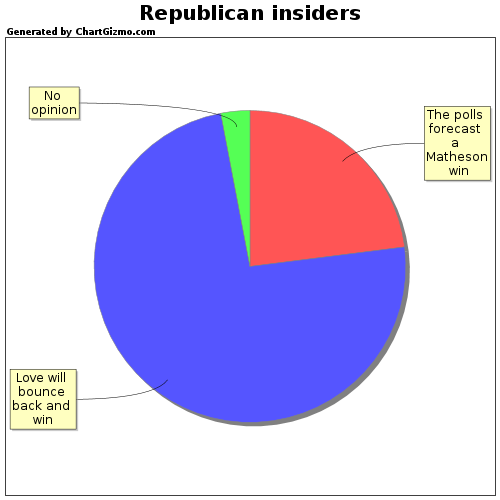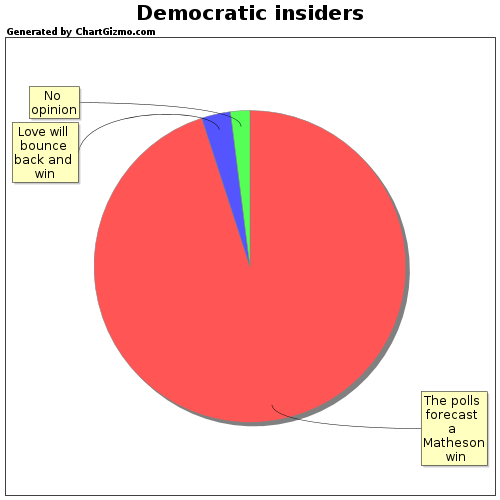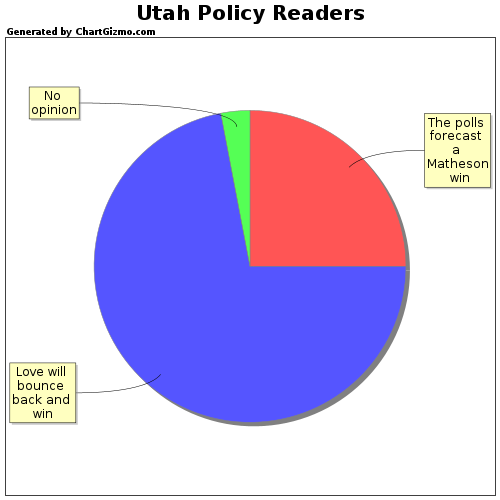 Some anonymous comments:
A lot of people don't know who Mia Love is. If they knew her better I think the polls would be reversed.

Love will bounce back, but she won't win. Her numbers will start to grow in Sept, but by mid-October she will peak and Matheson will win with around 52%.

With Romney at the top of the ticket there won't be any Democrats elected in Utah this year.

Substance versus novelty. No contest.

It's so early. Most people don't even realize yet Matheson is not even running in the district he lives in! Matheson will lose in a close race.

A Democrat-funded poll shows Matheson barely cresting 50%. Love has plenty of time, plenty of help and plenty of momentum. I hope Matheson is polishing up his resume.

Matheson is still just below 50 % which means he's still vulnerable. The more that people get to know Mia the higher her numbers will rise. Matheson is in trouble, and he knows it.

I am not so sure. Rep. Matheson is a favorite son of Utah -- and on most days, he is probably more Republican than his opponent Mia Love.

When compared to Matheson, particularly in upcoming debates, she will be clearly shown not to measure up.

Mia love has a double digit lead in charisma. Should be no problem for her to close the gap

When she was an unknown, she was considered a strong opponent. However, now that she has revealed her many extremist positions, her candidacy has lost its initial luster. Matheson has shown himself to be very responsive to most of his constituents, even though many Democrats would like to see him vote closer to the party's positions in some areas. On the other hand, it's refreshing to see a Representative who actually represents his constituents - Utah would be an even better place (and a lot more moderate) if more politicians did that.

I hope Matheson wins. I've had enough of these " My way or the Highway" Tea Partiers like Lee.

Morgan Philpot was completely inept and trailed Matheson by a huge margin and even he only lost by 3 or 4 points. Mia will be just fine.

Of course Love has a good chance - but very much expect Matheson to run a good strong race and win again.

Love dug her own grave when she replaced all of the key campaign staffers who helped her obtain over 70% of the vote at the state convention. She should've stuck with the successful staff she originally had rather than replace them with an NRCC-approved staff. The new staff is obviously in over their heads and Love has lost the stability provided by the original staff, as evidenced by the latest polls. Future candidates should beware of listening to national party officials when it comes to running local campaigns because by and large national party officials don't understand Utah's unique political culture.

Not saying she "will" win, but she definitely "can" win. It all depends on what kind of campaign she runs over the next 3 months.

Love's shining star is fading fast.

Remember the famous photo of Harry Truman holding the newspaper announcing Dewey's win? That headline was rushed into print based on erroneous polls, and those polls were meant to be honest. So how about polls that are intentionally designed to be like Alice in Wonderland's Queen of Hearts? . . . "Verdict first, then the trial!"

The same polls had Morgan Philpot way behind and he came very close to beating Rep. Matheson.

She's a good speaker, but so is Sarah Palin.

I don't believe Love will pull it off. Her campaign has problems. Her staff seems lacking in competence, and she is not running her campaign well. She seems to have trouble framing her message.

Waaay too early. Has Matheson even started to campaign?

The polls have Matheson barely above 50% - plenty of room and time for Mia to win this race

If Matheson is going to win, he's going to need a lot of help from the Tribune, KSL and the D-News, and early indications are they are going to help him quite a bit. Love has had more negative press in the past month than Matheson has had in this century.

The polls don't look good but I wouldn't be surprised to see Love win. She has to give people a clear reason to vote for her down the stretch.

Just think Romney vs Obama. That will play a bigger role in people's decisions

No one pays attention until after Labor Day. She needs to get her name out there and her numbers will go up.

Ok. In this case, I like polls.
Speculation is building that Love will get a speaking slot at the Republican National Convention in Tampa. How much would that help
Love's campaign

?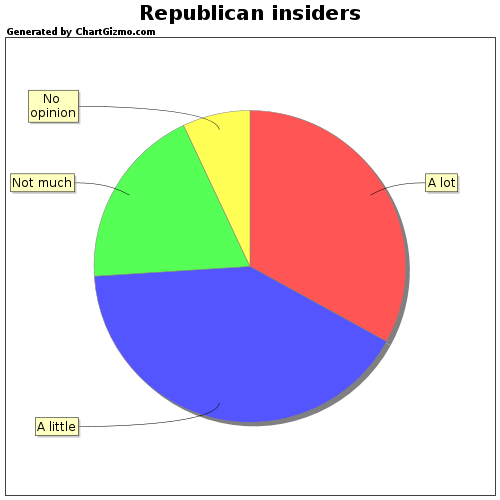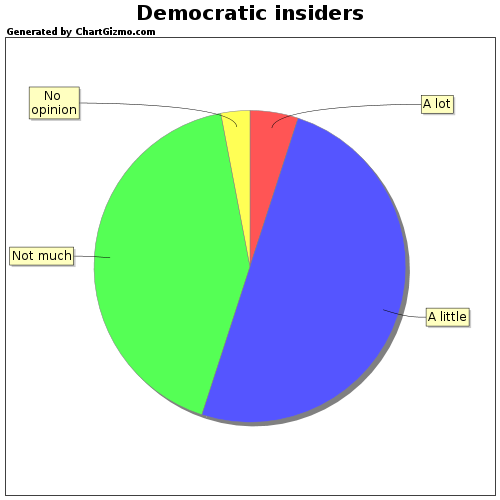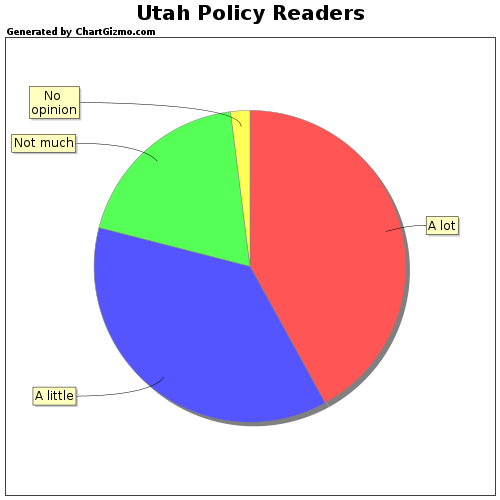 ---
Respondents include - 
Fred Adams, Stuart Adams, Jess Agraz, Scott Anderson, Laura Arellano, Patrice Arent, Bette Arial, Neil Ashdown, Bruce Baird, Tom Barberi, Heather Barney, Steve Barth, Jeff Bell, Tom Berggren, Mike Bertelsen, Ron Bigelow, Emily Bingham-Hollingshead, Rob Bishop, Laura Black, Nanci Bockelie, Charles Bradley, Jim Bradley, Ralph Brown, Chris Bleak, Curt Bramble, Joel Briscoe, Ralph Brown, Aaron Browning, Dave Buhler, Ken Bullock, Ric Cantrell, Maura Carabello, Marty Carpenter, Rebecca Chavez-Houck, Kay Christensen, David Clark, Kim Coleman, Peter Corroon, Tim Cosgrove, Fred Cox, Lew Cramer, Gene Davis, Richard Davis, Brad Daw, Alan Dayton, Margaret Dayton, Mike Deaver, Brad, Dee, Joseph Demma, Jake Dennis, Dan Deuel, Jeff Dixon, Brian Doughty, Carl Downing, Randy Dryer, Susan Duckworth, Donald Dunn, Alan Eastman, Becky Edwards, Scott Ericson, Chase Everton, Jessica Fawson, Janice Fisher, Wendy Fisher, Lorie Fowlke, Ronald Fox, Claire Francis, Ryan Frandsen, Adam Gardiner, Jordan Garn, Ernie Gamonal, Luke Garrott, Dave Gessel, Sheryl Ginsberg, Natalie Gochnour, Robert Grow, Karen Hale, David Hansen, Neil Hansen, Joe Hatch, Jeff Hartley, Dan Hauser, Lynn Hemmingway, Deidre Henderson, Neal Hendrickson, Casey Hill, Lyle Hillyard, Kory Holdaway, Randy Horiuchi, Ben Horsley, Bruce Hough, Scott Howell, Greg Hughes, Miriam Hyde, Allison Isom, Casey Jackson, Eric Jergensen, Mike Jerman, Jonathan Johnson, Michael Jolley, Gordon Jones, Leslie Jones, Pat Jones, Kirk Jowers, Jeremy Keele, Brian King, Scott Konopasek, Steve Kroes, Chris Kyler, Carter Livingston, Fred Lampropoulos, Clark Larsen, Douglas Larson, David Litvack, Larry Lunt, Matt Lyon, Ben McAdams, Daniel McCay, Gayle McKeachnie, JT Martin, Maryann Martindale, Jason Mathis, Bob Mayhew, Karen Mayne, Bret Milburn, Derek Miller, Rob Miller, Ethan Millard, Brett Millburn, Karen Morgan, Jeffery Morton, Mike Mower, Holly Mullen, Wayne Niederhauser, Mike Noel, Randy O'Hara, Ralph Okerlund, James Olsen, Val Oveson, Kelly Patterson, John Pearce, Helen Peters, Karen Peterson, Frank Pignanelli, Becky Pirente, Marie Poulson, Jason Powers, Tami Pyfer, Joe Pyrah, Mike Reberg, Jill Remington Love, Lauren Richards, Holly Richardson, Robin Riggs, James Roberts, Luz Robles, Ross Romero, Carol Sapp, Don Savage, Bryan Schott, Shauna Scott-Bellaccomo, Jay Seegmiller, Jennifer Seelig, Patrick Shea, Randy Shumway, Soren Simonsen, Jeremy Slaughter, Brendan Smith, Brian Somers, Carol Spackman-Moss, Robert Spendlove, Barbara Stallone, Howard Stephenson, David Stringfellow, Mike Styler, Shinika Sykes, Juliette Tennert, Gary Thorup, Kevin Van Tassell, Royce Van Tassel, Doug Thompson, Michael Waddoups, Laura Warburton, Chuck Warren, Christine Watkins, LaVarr Webb, Todd Weiler, Alan West, Mark Wheatley, Larry Wiley, Ted Wilson, Carl Wimmer, Mike Winder, Travis Wood, Thomas Wright, Crystal Young-Otterstrom
Results from the UtahPolicy.com/KSL Insider poll can be heard on KSL Radio every Friday and are published on Utah Policy.com every Monday.