We asked our insiders and readers to weigh in on Mitt Romney's selection of Paul Ryan as his running mate. Will Ryan help or hurt Romney's chances at winning in November and what will Utahns make of Ryan's budget plan?
Mitt Romney selected Wisconsin Congressman Paul Ryan as his running mate. In your opinion, what sort of impact will Ryan have on the race.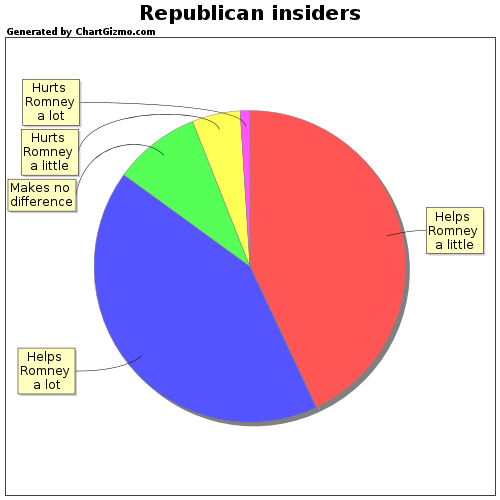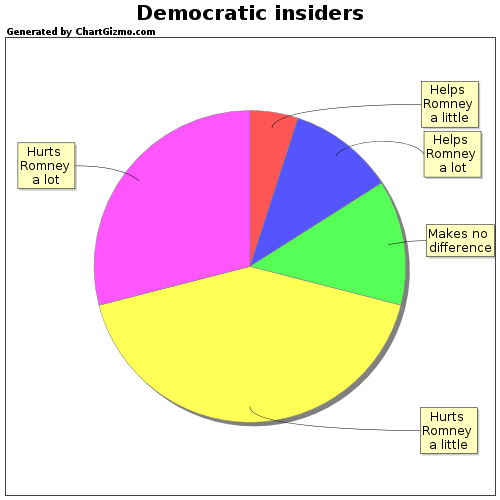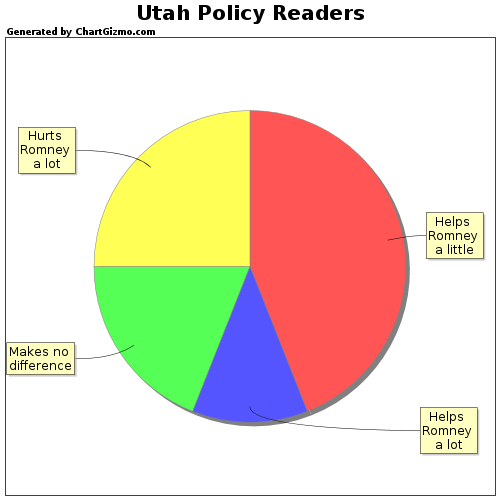 Some anonymous comments:

Ryan isn't a "game changer", but this pick does double down on making fiscal conservatism a key issue in the campaign.



I think it will help to energize the conservative base and increase voter turnout among Republicans on election day.

This appears that Romney is more interested in policy discussions than politics by naming a political choice to help him in one state or group of voters.

This election is a race based on the top of the ticket and a referendum on one of them. Ryan boosts Romney and makes social programs and the budget center stage.

The Ryan budget is an anchor that will sink him in Florida. Lose Florida, Lose the race.

It goes without saying that the election is about the economy. Romney's selection of Ryan highlights the argument that we can't fix the national economy without addressing the national out of control spending.

Vice Presidential nominees have little influence over voter decisions for the presidential ticket. That may be different this year.

Shows Mitt for the hypocrite he is. Ryan's business experience was driving the Weinermobile.....perfect now that he has been offered another ride in it!



Ryan's budget is extremely problematic and will just add to the already long list of issues the Romney campaign will have as they attempt to appeal to the average voter.

About time we had politicians who are willing to look beyond their next election to the next generation and willing to have the tough discussions career politicians are too afraid to.

It actually helps Romney in the short term, but it hurts him in the long run because the Ryan budget has too many political poisons in it.

While Ryan will help with conservatives, he will alienate independent voters.

Solidifies the base and gives them a reason to vote for the ticket as opposed to simply voting against Obama.

There are few undecideds left. But Ryan won't help Mitt with them.

His pick of Ryan confirms Romney's slide to the far Right of the political spectrum. Though this will certainly bring out more Tea Party voters, it will also be distasteful to many of those in the center - and that's where most of the votes are. The challenge for the Democrats will be to get out the vote; the challenge for the Republicans will be to attempt to paint Romney as a centrist rather than as an extremist.

The real question: Will Paul Ryan debating Joe Biden be considered elder abuse?

In Utah, he could have named Saddam Hussein as his running mate and it wouldn't have dropped his numbers at all.

Its helps by doing some of the following: 1) energizes even more conservative voters; 2) attract economic independents and small business owners and 3) it possibily siphons off votes that may have gone Libertarian or Constitutionalist candidates.

Kiss goodbye any moderates and independents! His choice confirms that one has to stoop to being a total wing nut in order to have the republican party's support, even if one is not. I think he just sealed his loss to Pres Obama by doing yet another reinvention of a Karl Rovian strategy and failing to recognize that the country is still centrist but leans a bit to the left or the right at any given time. This choice assures that Obama will be seen as closer to that center than will Romney. I am thrilled with his choice. Long live Karl Rove and the true believers!

Whether it helps or hurts, this pick was essential to assure a "last chance" debate before the U.S. goes over the fiscal cliff of entitlement explosions.

He's young, energetic, very conservative and has a great head for budget.

If we believe that the economy is in trouble, stagnant and capable of doing better under other leadership, having a strong, well-respected, informed party running opposite the current President, et al., will be a great benefit to Romney.

Rep. Ryan's past leadership on Medicare takes away from Romney's key message that the economy is in bad shape and that he'll be a more effective steward than Obama in fixing it. If the conversation focuses on entitlement reform instead of creating a vibrant economy, it wont help Romney with the few undecided voters who remain in swing states. On the plus side it might force both campaigns to start to focus on issues that actually have relevance.

Ryan will help with the base. The independents will chew him up and spit him out after a few hundred million dollars in attack ads.

Definitely energizes the right wing, which Romney needed. His young(ish) age should help deflect Romney's good-old-boy persona. The risk is that he alienates moderate swing voters, but perhaps he needed the right wing energized more than that.

Ryan is the perfect conservative balance to the team. He'll help in some swing states and he'll pull the Catholic vote. Good team.

GOP has gotta be smart to insure that Ryan's choice REALLY WORKS!!

Nationally, I think the Ryan plan is a non-starter when the details are put under the microscope.

This will focus the discussion on the economy and the Congress lack of budget control.

Romney needed someone to shake up the race. Ryan is a strong campaigner and will appeal to thoughtful moderates even though he is more conservative. They will respect his command for the issues. Of course, it will also solidify Romney's base.

Brings with him too many attack opportunities, which will negate any conservative additional support he brings.

I think Ryan will give Romney a boost in credibilty as a serious reformer and that Ryan will assist greatly in making clear and understandable statements about the important issues.


Do you think Utah voters will support or oppose Ryan's austerity budget plan?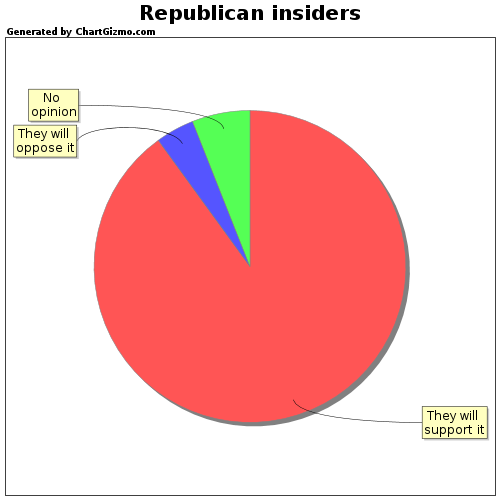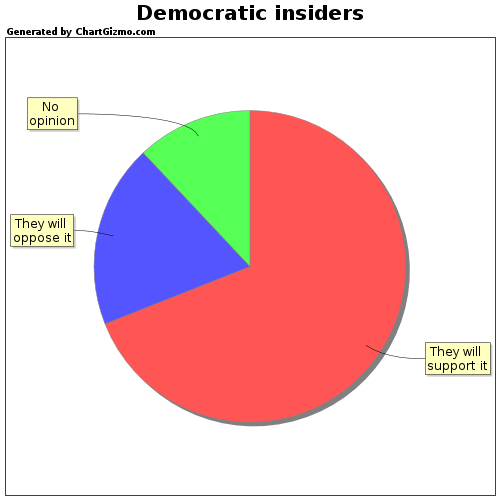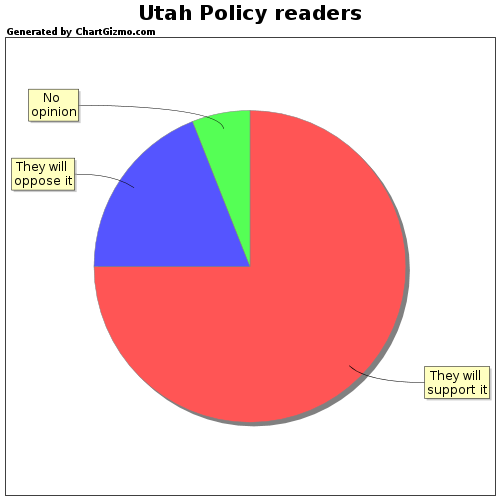 Some anonymous comments:

They will support the plan in concept, until the program that benefits them gets cut.

I hear constantly from the local citizens how upset they are that Congress is out of control. When they see that these global cuts mean cuts to specific programs that they like, their mood may change.

90% for Romney in a primary? They'll support it.

They will probably support it, even though it will be detrimental to most Utahns.

These sheep don't care. What ever it takes to vote for Romney.

Utah recognizes basic principles of economics & self-reliance. Very soon, we need to get deadly serious about balancing the budget and paying off our debt.

Self-sufficiency and not spending more than you have are part of the Utah's culture. Utahn's understand we have to live within our means as a country.

They will support it, not because they truly understand his budget plan, but because he is a Republican darling and he's on the ticket with their golden boy, Mitt Romney. Ignorance is bliss.



They will oppose it when they actually understand what's in it.

Utahns will blindly support the plan, even though they would not accept the consequences of it.

We are common sense fiscal conservatives in Utah. We are sensitive about our values but straightforward about funding. We recognize a problem when we see it and are not afraid to take drastic measures to resolve these types of issues (e.g. see medicaid and pension reform).



Anyone with a brain will oppose it. It is a thinly disguised wealth transfer from the have nots to the haves. And conservatives have the cojones to accuse libs of class warfare!

The more they understand its provisions, the more they will oppose its extremist nature and its targeting of programs that most voters favor.

Many Utahns are knee-jerk Romney Republicans who will pretty much accept and support anything he says. That assumes, of course, that Romney makes up his mind whether or not he supports the Ryan plan before the election and that he can stick to that decision longer than a news cycle.

They will support Romney's plan and Ryan can help explain it. Ryan's plan is clearly being incorporated into Romney's plan.

We can't continue the path to Hell we are on.

Are you kidding? It is Utah! If Mitt said that a purple parakeet revealed to him the master plan of the universe they would numbly nod their heads in reverential awe and agreement! They will reverentially support the plan even if it would absolutely gut them!

I just hope that he does not lean so far towards the Tea Party/John Birchers that he alienates serious thinking people.

Utah voters are famous for voting against their own best interest.

They won't like it, but it won't be enough to keep them away from Romney.

But they have no idea what they are supporting and will be voting against their own interests.

The tea partiers will love it, but most Americans won't like the sound of austerity and don't give much of a damn about the deficit.

If Mike Lee is in support then no question. A little misplaced worship in my opinion. Ultimately, if Romney and Ryan come out with a proposal, the majority will support.

Utah has tough pioneer stock--we KNOW the current fiscal house of cards can't be sustained. Let's fix it NOW! GO MITT.

Utahns will support the concept, but reject the specifics.

Most people will support it, but won't have any idea of just how terrible it would be for the average Utahn.

The Legislature is on a permanent austerity program. Just ask the kids who don't have a parent home in the afternoon to help them with their homework... too bad for them.

I don't think they will really get a chance to voice their opinion either way.

But a better approach is to have a Romney austerity plan that does not cut as deep as Ryan's. Romney's plan should include tax increases for the wealthy.

DUH!!! He's a conservative and Utahns tend to be ideological voters and support anything a conservative politician proposes without truly being informed.

They will support it because its rhetoric matches their misplaced beliefs about the Federal government specifically, and other governmental units generally. Part of me, the evil side, hopes the Utah voters will actually experience what an R&R administration would be like, particularly on the fiscal side. But, the better side doesn't want to see the 99% suffer, particularly the youth and elderly.


---
Respondents include -

Fred Adams, Stuart Adams, Jess Agraz, Scott Anderson, Laura Arellano, Patrice Arent, Bette Arial, Neil Ashdown, Bruce Baird, Tom Barberi, Heather Barney, Steve Barth, Jeff Bell, Tom Berggren, Mike Bertelsen, Ron Bigelow, Emily Bingham-Hollingshead, Rob Bishop, Laura Black, Nanci Bockelie, Charles Bradley, Jim Bradley, Ralph Brown, Chris Bleak, Curt Bramble, Joel Briscoe, Ralph Brown, Aaron Browning, Dave Buhler, Ken Bullock, Ric Cantrell, Maura Carabello, Marty Carpenter, Rebecca Chavez-Houck, Kay Christensen, David Clark, Kim Coleman, Peter Corroon, Tim Cosgrove, Fred Cox, Lew Cramer, Gene Davis, Richard Davis, Brad Daw, Alan Dayton, Margaret Dayton, Mike Deaver, Brad, Dee, Joseph Demma, Jake Dennis, Dan Deuel, Jeff Dixon, Brian Doughty, Carl Downing, Randy Dryer, Susan Duckworth, Donald Dunn, Alan Eastman, Becky Edwards, Scott Ericson, Chase Everton, Jessica Fawson, Janice Fisher, Wendy Fisher, Lorie Fowlke, Ronald Fox, Claire Francis, Ryan Frandsen, Adam Gardiner, Jordan Garn, Ernie Gamonal, Luke Garrott, Dave Gessel, Sheryl Ginsberg, Natalie Gochnour, Robert Grow, Karen Hale, David Hansen, Neil Hansen, Joe Hatch, Jeff Hartley, Dan Hauser, Lynn Hemmingway, Deidre Henderson, Neal Hendrickson, Casey Hill, Lyle Hillyard, Kory Holdaway, Randy Horiuchi, Ben Horsley, Bruce Hough, Scott Howell, Greg Hughes, Miriam Hyde, Allison Isom, Casey Jackson, Eric Jergensen, Mike Jerman, Jonathan Johnson, Michael Jolley, Gordon Jones, Leslie Jones, Pat Jones, Kirk Jowers, Jeremy Keele, Brian King, Scott Konopasek, Steve Kroes, Chris Kyler, Carter Livingston, Fred Lampropoulos, Clark Larsen, Douglas Larson, David Litvack, Larry Lunt, Matt Lyon, Ben McAdams, Daniel McCay, Gayle McKeachnie, JT Martin, Maryann Martindale, Jason Mathis, Bob Mayhew, Karen Mayne, Bret Milburn, Derek Miller, Rob Miller, Ethan Millard, Brett Millburn, Karen Morgan, Jeffery Morton, Mike Mower, Holly Mullen, Wayne Niederhauser, Mike Noel, Randy O'Hara, Ralph Okerlund, James Olsen, Val Oveson, Kelly Patterson, John Pearce, Helen Peters, Karen Peterson, Frank Pignanelli, Becky Pirente, Marie Poulson, Jason Powers, Tami Pyfer, Joe Pyrah, Mike Reberg, Jill Remington Love, Lauren Richards, Holly Richardson, Robin Riggs, James Roberts, Luz Robles, Ross Romero, Carol Sapp, Don Savage, Bryan Schott, Shauna Scott-Bellaccomo, Jay Seegmiller, Jennifer Seelig, Patrick Shea, Randy Shumway, Soren Simonsen, Jeremy Slaughter, Brendan Smith, Brian Somers, Carol Spackman-Moss, Robert Spendlove, Barbara Stallone, Howard Stephenson, David Stringfellow, Mike Styler, Shinika Sykes, Juliette Tennert, Gary Thorup, Kevin Van Tassell, Royce Van Tassel, Doug Thompson, Michael Waddoups, Laura Warburton, Chuck Warren, Christine Watkins, LaVarr Webb, Todd Weiler, Alan West, Mark Wheatley, Larry Wiley, Ted Wilson, Carl Wimmer, Mike Winder, Travis Wood, Thomas Wright, Crystal Young-Otterstrom

Results from the UtahPolicy.com/KSL Insider poll can be heard on KSL Radio every Friday and are published on Utah Policy.com every Monday.