With Mitt Romney at the top of the ballot, voter turnout in Utah will be: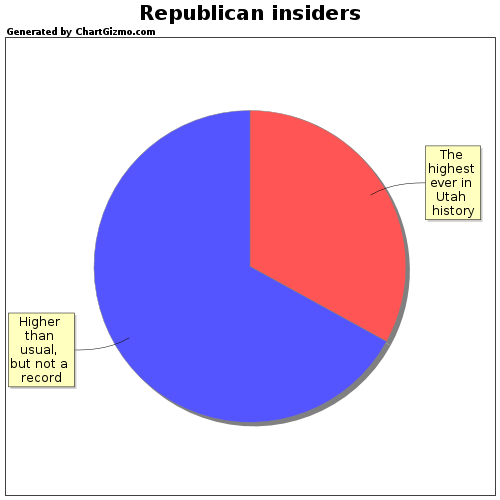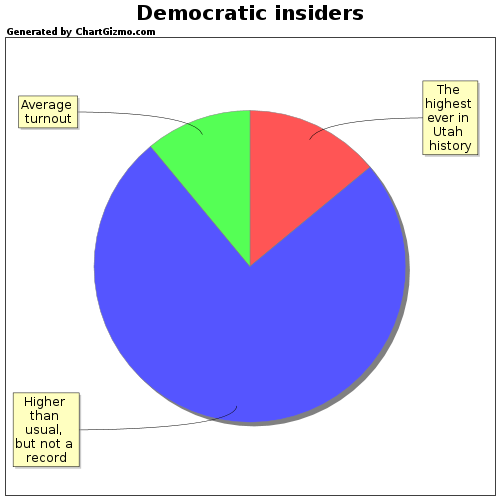 Some anonymous comments:


People in Utah vote at embarrassing levels. Romney will help, but a frightening majority will still not show up.It's gonna be big.No way we will get near the 90% participation of the 1960's.I don't think people in this state realize the dramatic impact that a Mormon on the top of the ticket will have. People who have never voted a day in their lives will show up for this historic occasion similar to how African Americans rallied to Barack Obama in 2008. This means that Crockett will be the next county mayor when in other years, McAdams would have won this race.Many republicans I know say they won't vote for Romney but arent voting for Obama either- will leave the PRESIDENTIAL BALLOT CHOICE BLANK and will cast votes for the rest.This will make the Reagan turnout seem small.Let's face it, Mormon or not, most citizens just don't care enough any more to take the time to cast an informed ballot. Those days are gone, and I'm afraid of what needs to happen to make people realize how important it is to be informed and involved.There will still be the basic voter apathy caused by Utah's one party system.The only close race is the 4th Cong district. So no real excitement.In voter count the highest ever. In percentage of eligible voters who actually voted not a record. But maybe Utah can get out of the national basement this year.It's circle the wagons around 'one of our own'. Might be last opportunity they get.Mormons are eager to vote for Romney which will give the Mormon culture a semblence of normality and a way into the mainstream, whether it is in their best interests or not.The problem is people know Utah is Romney through and through. They may opt out thinking everyone else will vote. Why bother, right? Apathy is pandemic.If we don't turn out to vote, (at our time in history), we deserve what we get.Even with Mitt Romney on the ticket, many Utahns still have little interest in or knowledge about politics.Romney is popular, but he is not Ronald Reagan.The higher turnout of a Romney ticket will be somewhat offset by the overall trend of decreasing participation (increasing apathy) in Utah.A record would be a 20-point bump in turnout, and I don't think we'll get that, but it will be pretty significant.If he is tied or looks like he is going to win, turn-out gets higher here.
What will Romney's presence on the ballot mean for Utah Republican candidates?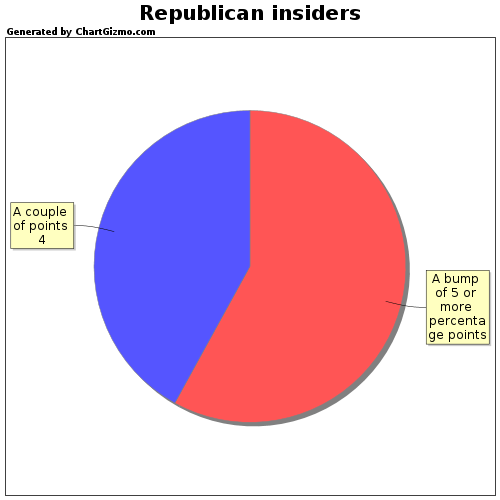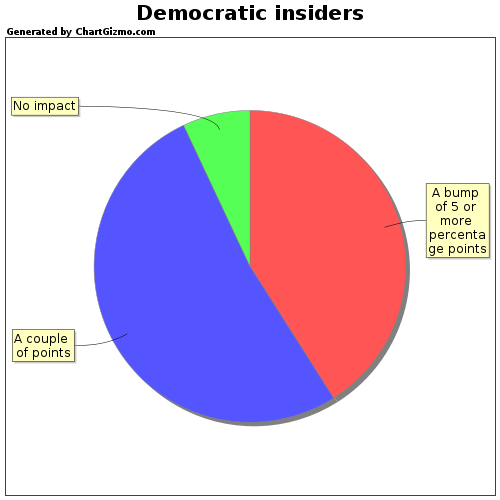 Some anonymous comments:

Utah is so red right now Romney isn't going to make it redder.

God bless any poor Democrat that was willing to run and be a sacrificial lamb this cycle.

I voted for Romney. I also voted for McAdams. Some impact at most, but not a tsunami.

This is a big deal. I think it's 5 easy in most races. Not sure if they can get 5 points in SLCO for Mayor and CD4 though. It'll certainly help.

It may bring a small number of people who vote a straight party ticket and some supporting a Republican congress for Romney.

Huge, huge, huge!!!

Too bad some people vote straight party. Doing so is like shouting, "My closed mind is unwilling to consider alternatives, even good ones!"

Bad year for the average Democrat candidate in Utah.

Long day for Ds.

This cannot be determined. If Angela Romero gets 65% of the vote over Andres Paredes, instead of the 70%, is that the Romney effect? In the trouncing races the margin is so wide that 5% won't be detected. In close races the effort of the candidate will make the difference.

Princess Diana's wedding gown train was a mini skirt compared to Mitt's long coat tails involved here. Straight party voting should be outlawed, it's only for the uninformed or lazy voter with blinders.

I think many Republicans will vote for Mitt, but will cross party lines to vote for the best candidates. I see many "Republicans for McAdams" signs and multi party signs on lawns across the valley while I am out delivering signs for my candidates.

I think you will see at least a couple of points in most districts, and more in some districts.

Unfortunately, many of this year's 'extra' voters will simply vote a straight Republican ticket, rather than putting any thought into their votes.

Especially for the one candidate he endorsed - Mia Love

Considering how low turnout has been in the past two decades, there is a lot of latent potential, and I expect this to be a big jump.
Where will Romney's impact be felt the most?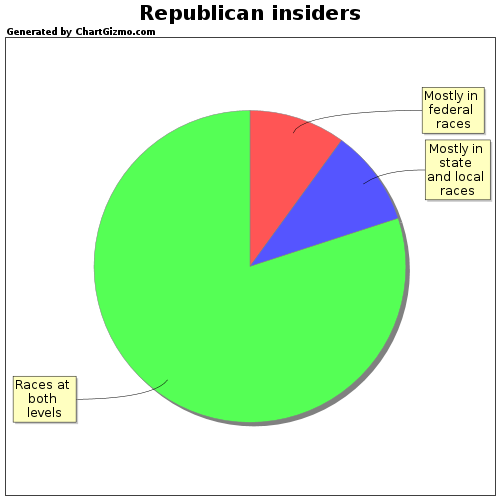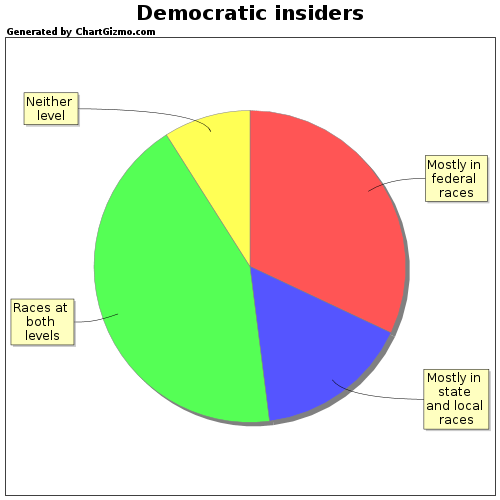 Some anonymous comments:

A lot of Republicans are for Romney because he is Republican. He had to convince his base that he was conservative. NOW he has to convince independents he is moderate. That can cost some of his party that are running for office.

The Romney Tsunami will lift all boats including those who don't deserve to float like Love and Crockett.

I think there will be a romney impact at the Federal level, but not at the local level.

There may be a slight uptick for federal candidates because of Romney's request for Republican support from congress but I think local politics will factor in local races.

I foresee a Democratic apocalpyse...it'll make 1994 look like a cakewalk...I hope I'm proven horribly wrong...

Mia Love picked the perfect time to "off" Matheson.

With Romney at the top of the ticket, Democrats will lose badly in almost all of the races. Many voters vote for the party rather than the person. Sadly, most of those people will not even know anything about who they are voting for.

Straight party voting disadvantages all democratic candidates.

As a democrat in Davis County, sure feels hopeless to me!

The one race that really concerns me is Matheson vs Love. She's riding Mitt's coattails so hard I could see Ann wondering if something's going on. Mitt's strength may help the lightweight, novelty candidate defeat a proven public servant who loves and represents Utah very well. And that would be a sin for which Mitt will have a hard time repenting.

State and local republicans don't have much to offer so they will try to win their races on Romney's coat tails (i.e. Mia Love).

Say hello to Congresswoman Love.

I do not think Romney votes will affect other races. Or maybe I am delusional.

The races appearing in greatest proximity to the Presidential race on the ballot will see the greatest benefit.

It may be due to the Romney effect that after the election, the highest ranking federal or state democratic official in the state will be the Salt Lake County Clerk. Ouch!

Mia Love will be elected to Congress thanks to Mitt's marvelous coattails.

Obama's campaign is starting to look like the U of U offense, good on paper, lousy on the field!

Landslide. Bloodbath. Massacre. Blowout. A victory for truth, justice and the American Way.

I say both, but many local/state races aren't competitive. I think the biggest impacts will be the Love/Matheson contest and the SL County Mayor race.

Just more people punching straight ticket.
---
Respondents include - 

Fred Adams, Stuart Adams, Jess Agraz, Scott Anderson, Laura Arellano, Patrice Arent, Bette Arial, Neil Ashdown, Bruce Baird, Tom Barberi, Heather Barney, Steve Barth, Jeff Bell, Tom Berggren, Mike Bertelsen, Ron Bigelow, Emily Bingham-Hollingshead, Rob Bishop, Laura Black, Nanci Bockelie, Charles Bradley, Jim Bradley, Ralph Brown, Chris Bleak, Curt Bramble, Joel Briscoe, Ralph Brown, Aaron Browning, Ken Bullock, Ric Cantrell, Maura Carabello, Marty Carpenter, Rebecca Chavez-Houck, Kay Christensen, David Clark, Kim Coleman, Peter Corroon, Tim Cosgrove, Fred Cox, Lew Cramer, Gene Davis, Richard Davis, Brad Daw, Alan Dayton, Margaret Dayton, Mike Deaver, Brad, Dee, Joseph Demma, Jake Dennis, Dan Deuel, Jeff Dixon, Brian Doughty, Carl Downing, Randy Dryer, Susan Duckworth, Donald Dunn, Alan Eastman, Becky Edwards, Scott Ericson, Chase Everton, Jessica Fawson, Janice Fisher, Wendy Fisher, Lorie Fowlke, Ronald Fox, Claire Francis, Ryan Frandsen, Adam Gardiner, Jordan Garn, Ernie Gamonal, Luke Garrott, Dave Gessel, Sheryl Ginsberg, Natalie Gochnour, Robert Grow, Karen Hale, David Hansen, Neil Hansen, Joe Hatch, Jeff Hartley, Dan Hauser, Lynn Hemmingway, Deidre Henderson, Neal Hendrickson, Casey Hill, Lyle Hillyard, Kory Holdaway, Randy Horiuchi, Ben Horsley, Bruce Hough, Scott Howell, Greg Hughes, Miriam Hyde, Allison Isom, Casey Jackson, Eric Jergensen, Mike Jerman, Jonathan Johnson, Michael Jolley, Gordon Jones, Leslie Jones, Pat Jones, Kirk Jowers, Jeremy Keele, Brian King, Scott Konopasek, Steve Kroes, Chris Kyler, Carter Livingston, Fred Lampropoulos, Clark Larsen, Douglas Larson, David Litvack, Larry Lunt, Matt Lyon, Ben McAdams, Daniel McCay, Gayle McKeachnie, JT Martin, Maryann Martindale, Jason Mathis, Bob Mayhew, Karen Mayne, Bret Milburn, Derek Miller, Rob Miller, Ethan Millard, Brett Millburn, Karen Morgan, Jeffery Morton, Mike Mower, Holly Mullen, Wayne Niederhauser, Mike Noel, Randy O'Hara, Ralph Okerlund, James Olsen, Val Oveson, Kelly Patterson, John Pearce, Helen Peters, Karen Peterson, Frank Pignanelli, Becky Pirente, Marie Poulson, Jason Powers, Tami Pyfer, Joe Pyrah, Mike Reberg, Jill Remington Love, Lauren Richards, Holly Richardson, Robin Riggs, James Roberts, Luz Robles, Ross Romero, Carol Sapp, Don Savage, Bryan Schott, Shauna Scott-Bellaccomo, Jay Seegmiller, Jennifer Seelig, Patrick Shea, Randy Shumway, Soren Simonsen, Jeremy Slaughter, Brendan Smith, Brian Somers, Carol Spackman-Moss, Robert Spendlove, Barbara Stallone, Howard Stephenson, David Stringfellow, Mike Styler, Shinika Sykes, Juliette Tennert, Gary Thorup, Kevin Van Tassell, Royce Van Tassel, Doug Thompson, Michael Waddoups, Laura Warburton, Chuck Warren, Christine Watkins, LaVarr Webb, Todd Weiler, Alan West, Mark Wheatley, Larry Wiley, Ted Wilson, Carl Wimmer, Mike Winder, Travis Wood, Thomas Wright, Crystal Young-Otterstrom

Results from the UtahPolicy.com/KSL Insider poll can be heard on KSL Radio every Friday and are published on Utah Policy.com every Monday.