Online activity during Monday's third and final presidential debate fell off significantly from the two previous contests.
Twitter says there were 6.5 million tweets sent during the debate, compared with 7.2 million during debate #1 and 10.3 million from the first debate.
The most activity on Twitter came during Barack Obama's "horses and bayonets" comment, followed by the moment when moderator Bob Schieffer said "I think we all love teachers."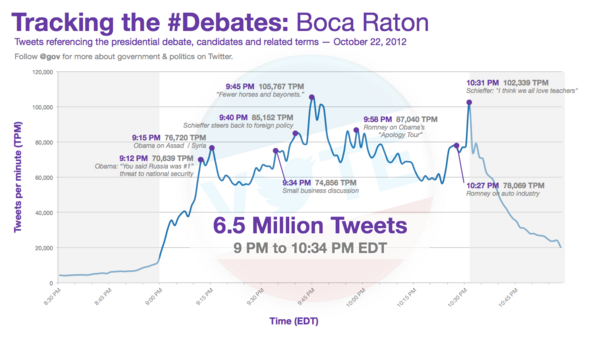 From CNet.com
:
The declining Twitter interest in tonight's debate could reflect a voting public's waning interest in the election, or just that there were fewer moments worth mentioning. However, it's also possible that interest in the debates suffered in competition with two major televised sporting events: Monday Night Football and game 7 of the National League Championship series between the St. Louis Cardinals and the San Francisco Giants.

However, the debates did generate Web search interest. Google's top five rising searches of the night were dominated by debate topics or keywords:

horses and bayonets
Syria
Mali
drones
tumult